I love a good fish and chips and have sampled many on my travels. The Magpie in Whitby, Scott's in Mayfair London, the Lonestar in Barbados all spring to mind as historic examples of this great dish, but I now have a new favourite –  the Scallop Shell in Bath (for the website click here)
The Location
The Scallop Shell is on Monmouth Street, very near the city centre. You enter via the traditional fish and chip shop takeaway with sacks of fresh spuds stacked near the doorway and an enamel bath filled with ice displaying an array of fresh fish and seafood. You know immediately this is not your typical British fish and chip shop, even though the aroma is very familiar! The restaurant is situated adjoining the takeaway. It is bright and modern, with a chic beach feel and an attractive blue colour palette. I found out after the visit that there is also another dining area and terrace situated on the first floor. We were seated at a spacious corner table for 6 and the young, eager to please, waiting staff gave us a friendly welcome.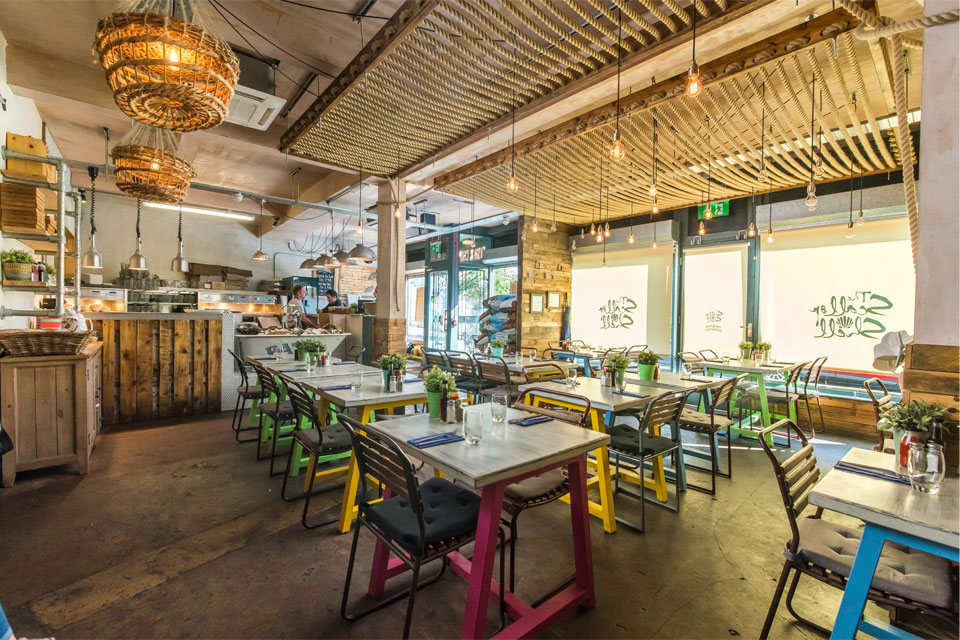 The Food
The menu at the Scallop Shell has 3 main sections: Seafood, Grilled Fish and Fried Fish. There are also a couple of  dishes for those who don't eat fish, and a selection of sweets. The seafood varies depending what is available fresh on the day from their West Country fish suppliers. When we visited there was mussels, oysters, prawns, crab and clams, which you could have as a starter or main.
Alternatively you can create your own seafood platter to share. The selection of grilled fish included a Sand Sole, a fish I had never heard of before. Jane tried this, it came whole on the bone, the fish just flaked away and she said it was absolutely delicious. The rest of us went for the deep fried fish and chips. The fish was white and flaky, the batter light and crisp and the chips golden, crispy and fluffy. There was no trace of grease or oil. There was a choice of the traditional cod and haddock, and there were also more unusual options such as monkfish tail and skate. We tried out the traditional mushy peas and curry sauce which were also delicious.
For those with a smaller appetite, they serve smaller portions of fish and chips, still a substantial meal! None of us had room for sweets, maybe next time.
The Drinks
A small selection of local craft beers and wines was available, which were reasonably priced.
Overall
The Scallop Shell serves a delicious meal in pleasant surrounding with great service. It's amazing value for the quality of food served, around £20 a head with drinks and service.
The Guestbook Comment: "If you like fish and chips and are in Bath you have to visit the Scallop Shell, I just can't wait to return."
Planning on visiting as part of a trip to Bath? Have a look at Chris's guide for what to include in a weekend break.
No freebies have been offered or provided by any of the establishments featured in this post!