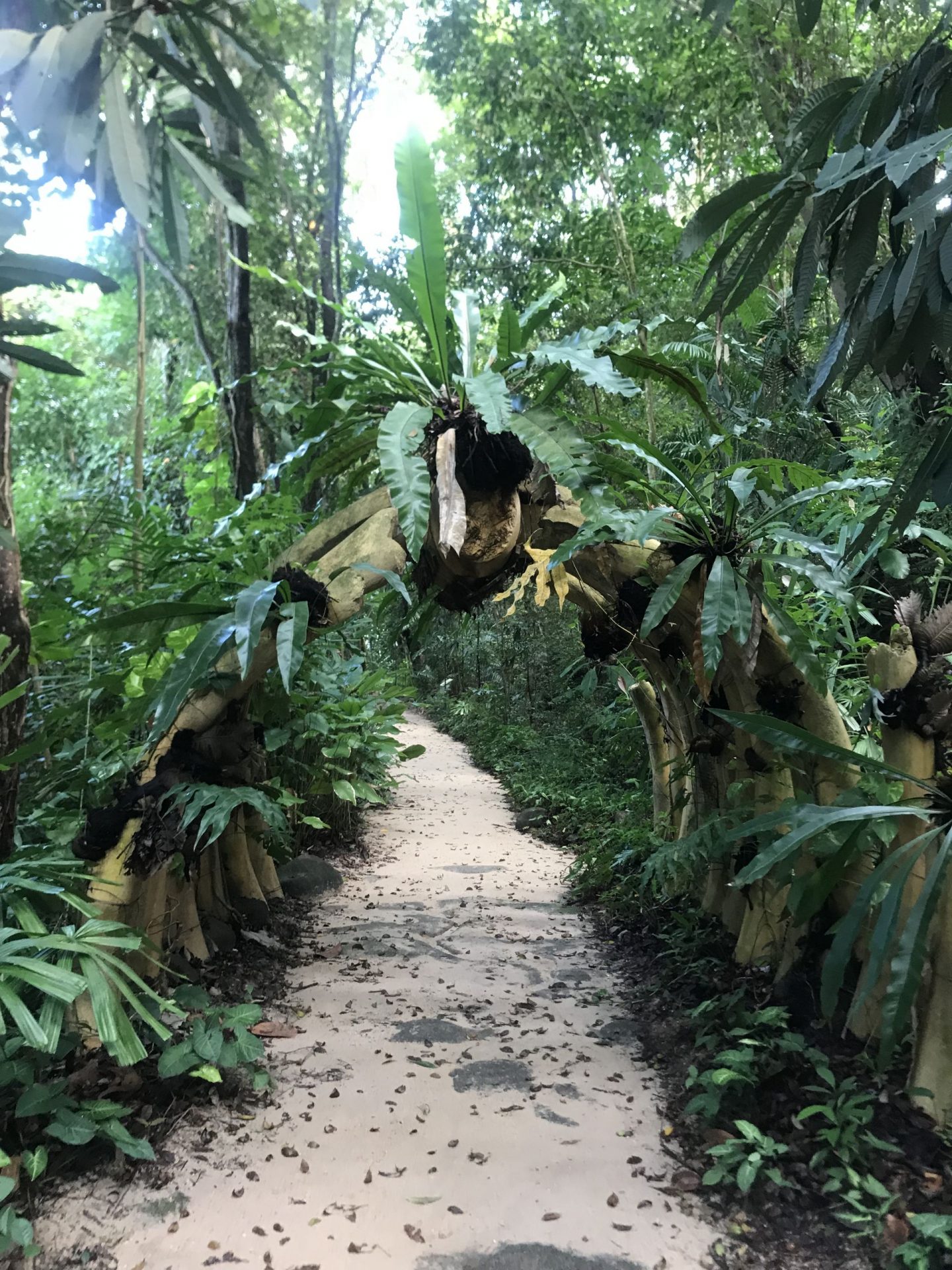 Think Sentosa and think Universal Studios, beaches and… quiet, undiscovered forest walks?! It turns out Sentosa is much more than man-made, glitzy attractions (as fun as they might be). We set off to discover another side of Sentosa!
Walking trails in Sentosa
Sentosa markets itself as the destination of fun in Singapore and it's easy to see why, with a whole host of kid-friendly attractions and beaches aplenty, there is loads to see and do. Another great activity (that's also free!) is the Sentosa walking trails. Sentosa actually has loads of walks on offer, and they are well signposted and perfectly geared towards kids too, with lots of things to see on route.
Imbiah Trail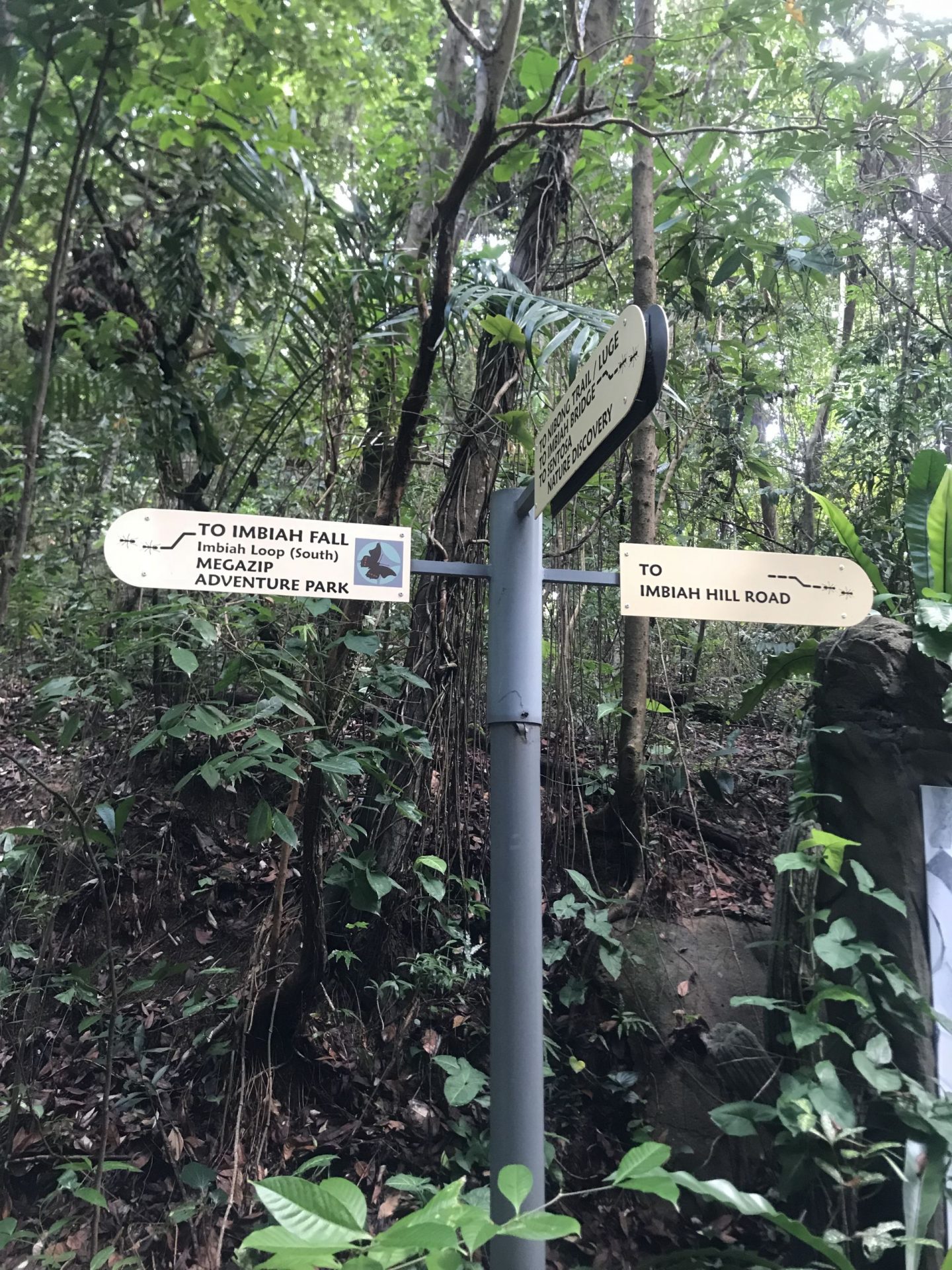 Although there are a few options to explore, we opted for the Imbiah Trail, which is a circular loop with a starting point close to the main entrance to Sentosa via Resorts World.
Getting to the start of the Imbiah Trail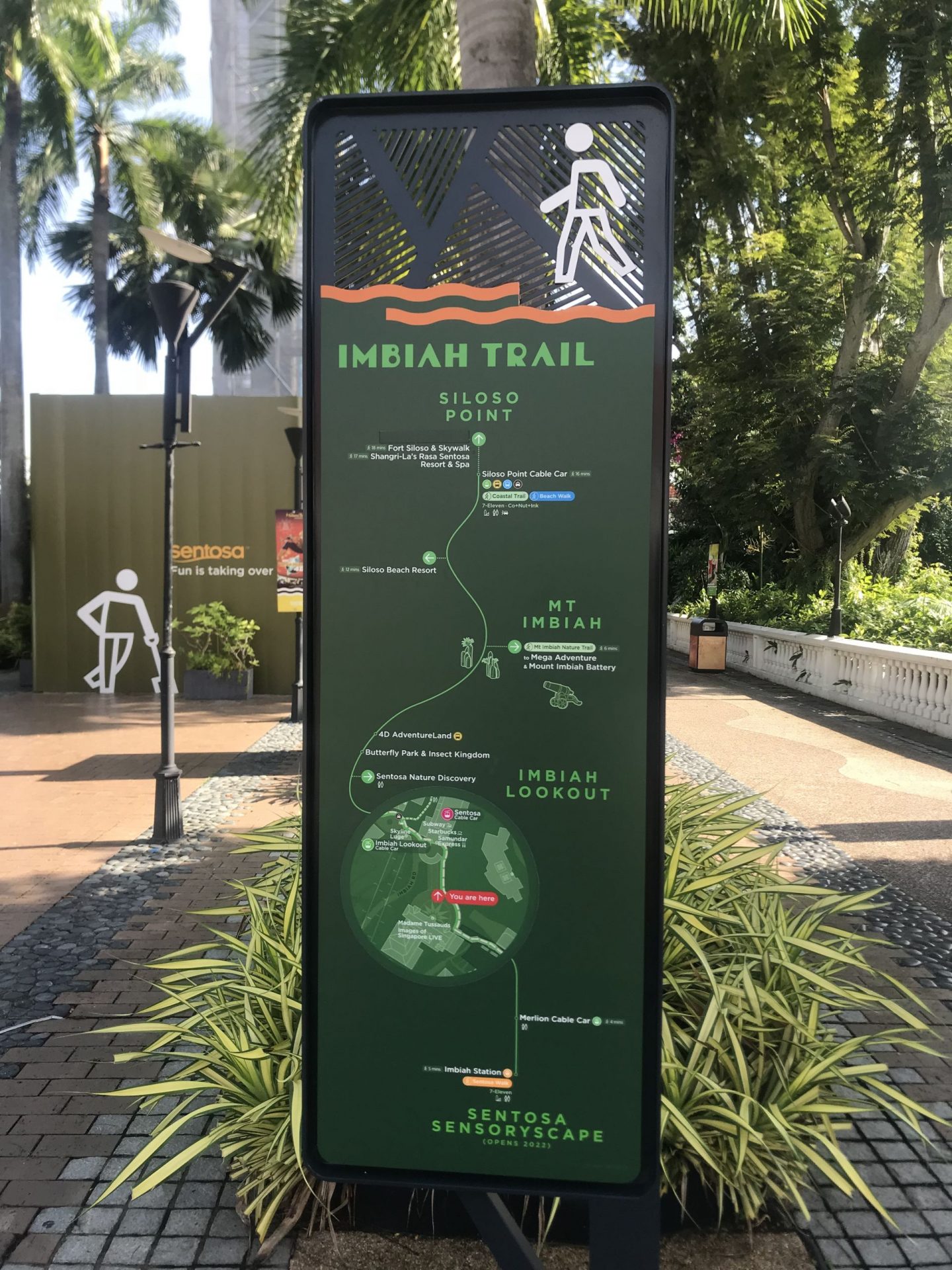 You can take your pick on options here. If you want to travel in style, then the Cable Car is your best bet and takes you pretty close (get off at Imbiah Lookout station). Alternatively, you can hop on the Sentosa Express (Monorail) from Harbourfront and travel two stops to Imbiah Station. We chose to walk across the boardwalk from VivoCity and then headed up through Resorts World Sentosa (follow signs for Imbiah Station).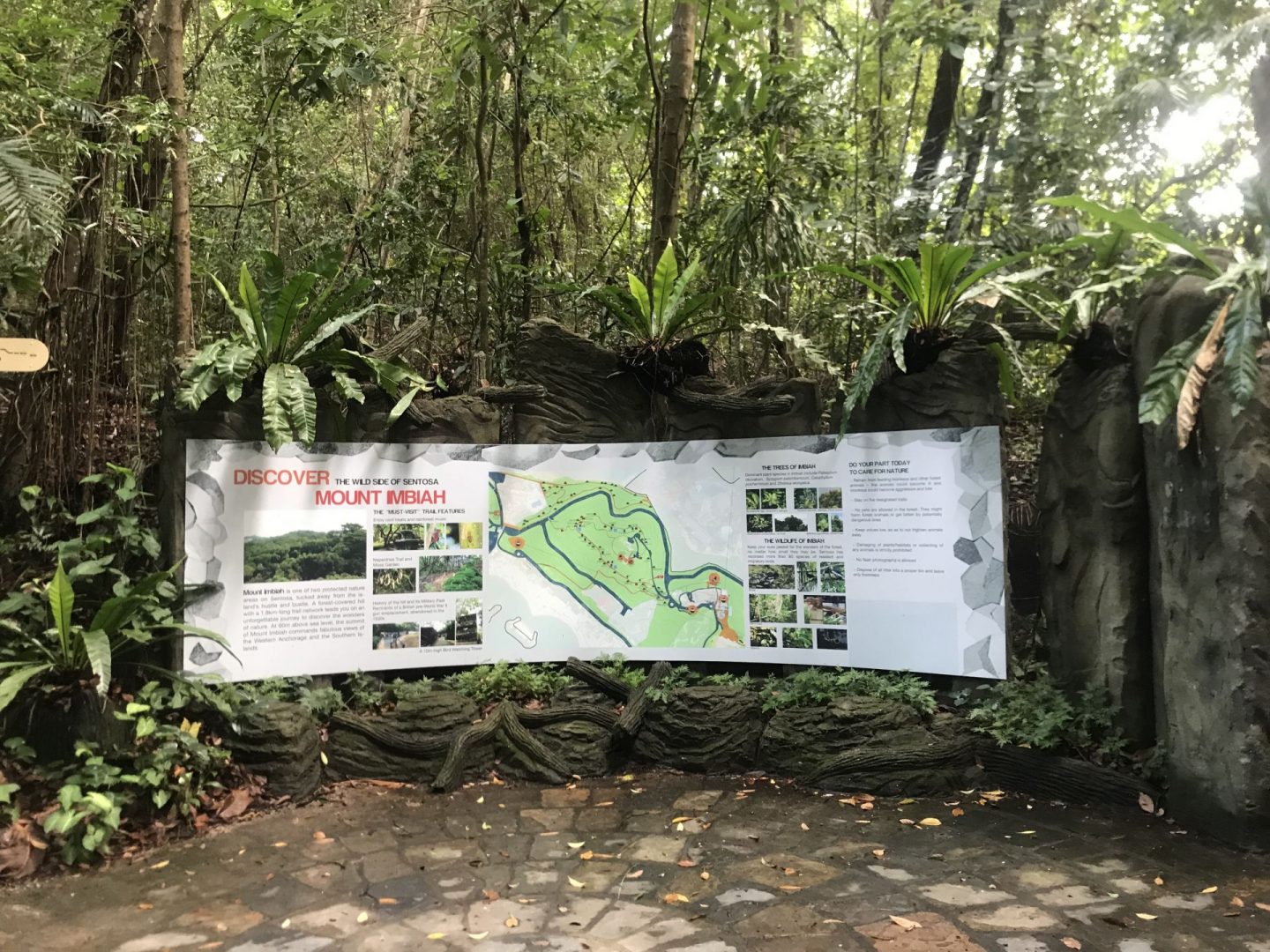 Once you've reached Imbiah Station and the Merlion has wowed the kids, head right following signs for the Imbiah Trail (it's in the direction of Madame Tussauds). A big question for me before we set off on our walk was – is the Imbiah Trail pram friendly? Turns out the answer is sort of! There are escalators at the start, which was our first stumbling block, it might have just been us, but we couldn't find a lift alternative. Once you've tackled the escalators the rest of the route is pretty stroller friendly (apart from the tree roots, more on this below!)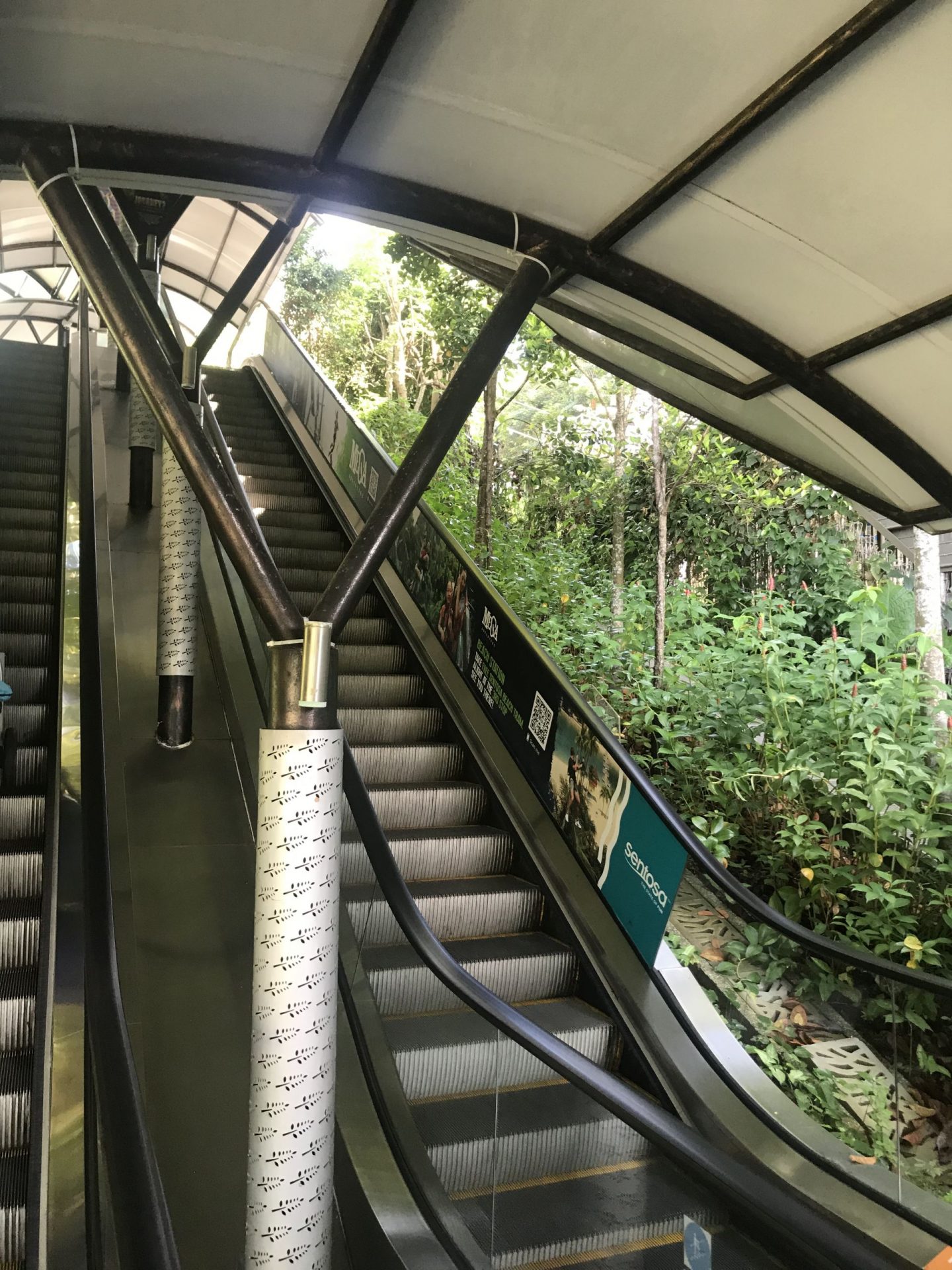 Suggested route for the Imbiah Trail with kids – what to see and do
1. Madame Tussauds (the former British Military Hospital)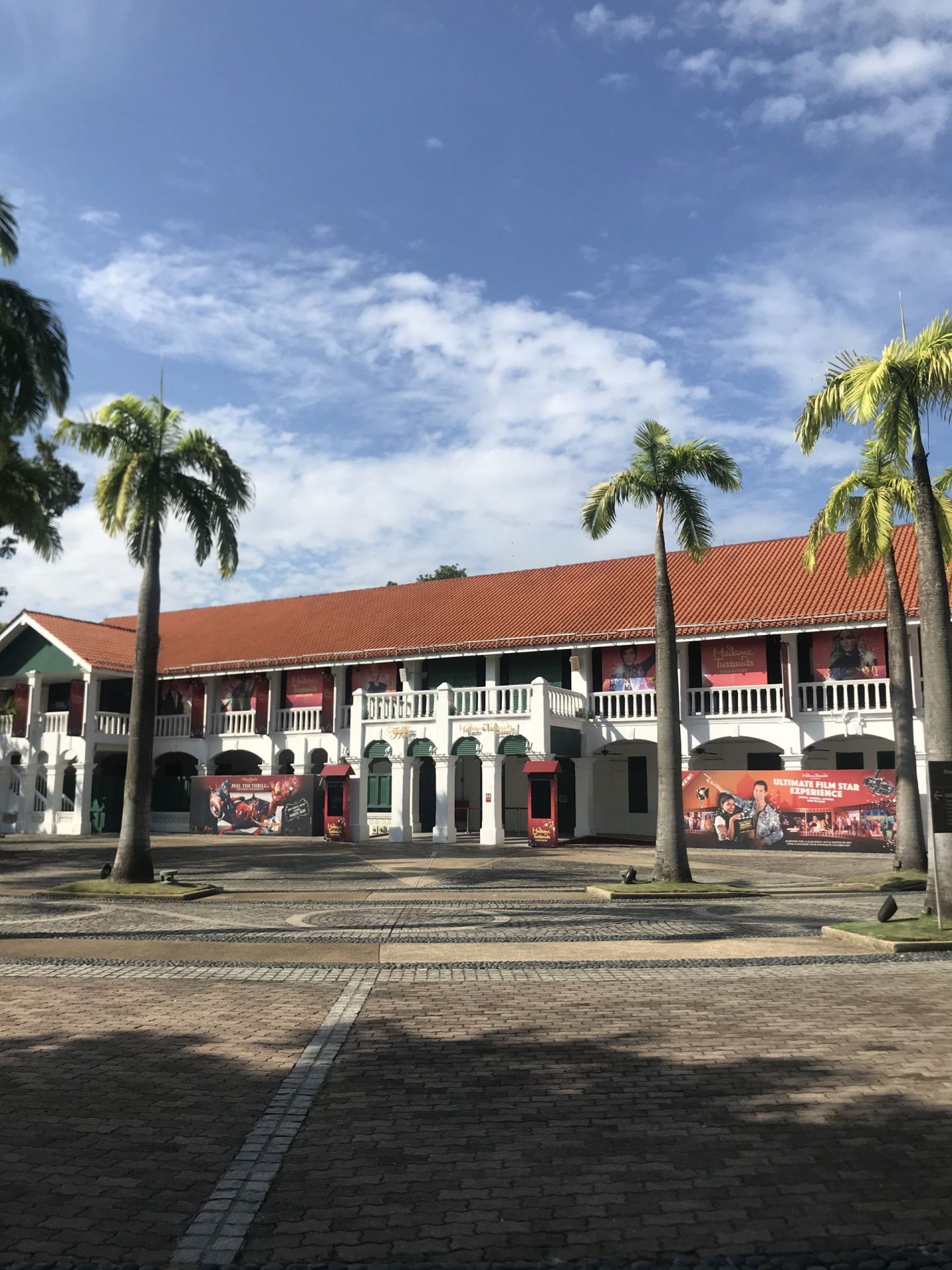 Once you're at the top of the escalators you've reached one of Sentosa's famous attractions – Madame Tussauds. Although a fun attraction today, the building actually has a lot of history on offer too as the former British Military Hospital used during World War II.
From this point you also get some good views over towards the CBD.
For the kids, there are a few fun mirrors positioned here that will keep them entertained (our toddler, Jess was reluctant to leave!). The Cable Car also travels over this spot which is a bit of a novelty.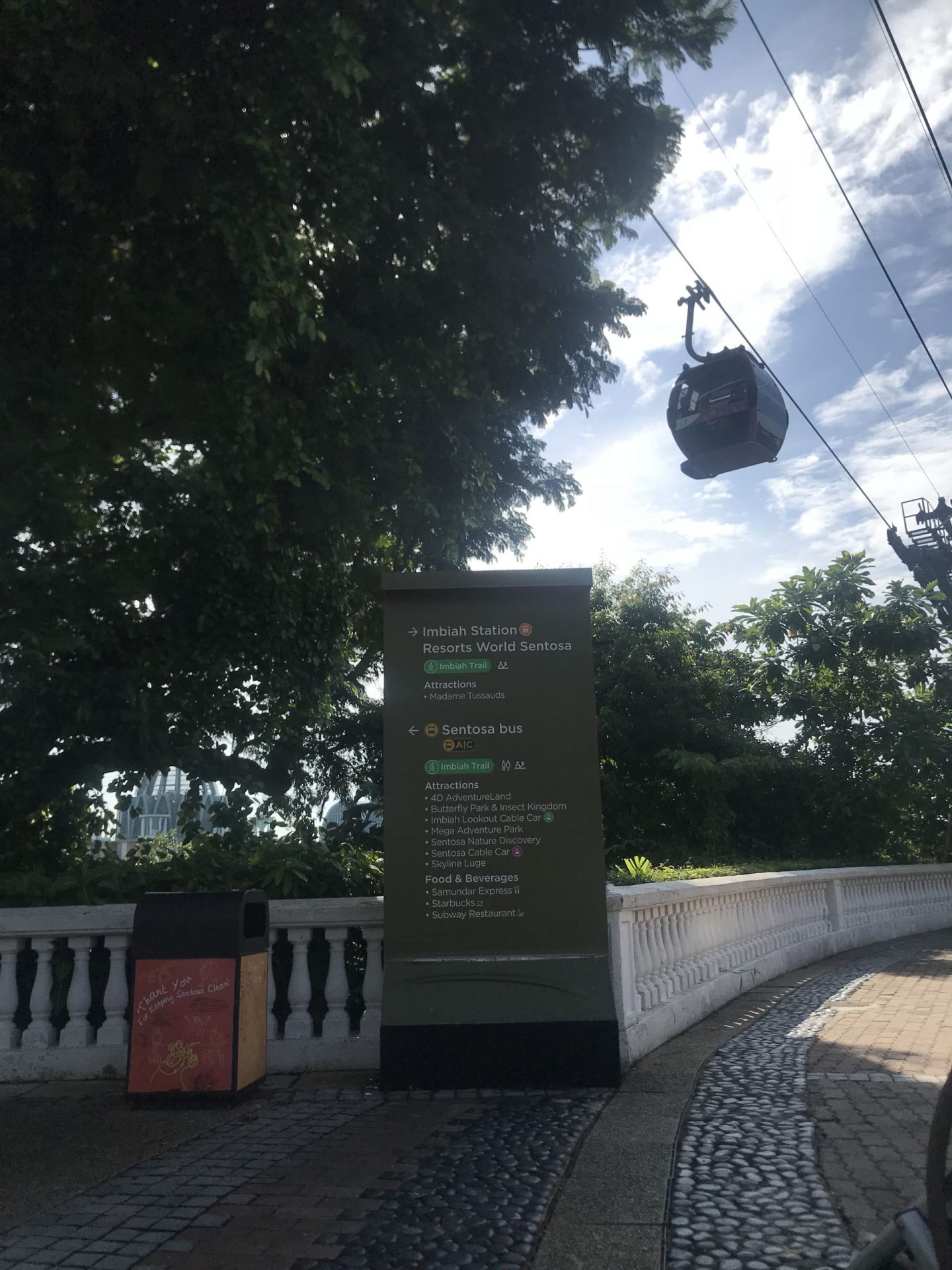 Try to prise them away from here as there's plenty more to explore around the corner. From here, head past the cable car stop, the cafes and shops (Starbucks is here), and then head towards Sentosa Nature Discovery, the next stop. Top tip: Toilets are here, so it's worth doing a stop as there's none once you're on the route!
2. Sentosa Nature Discovery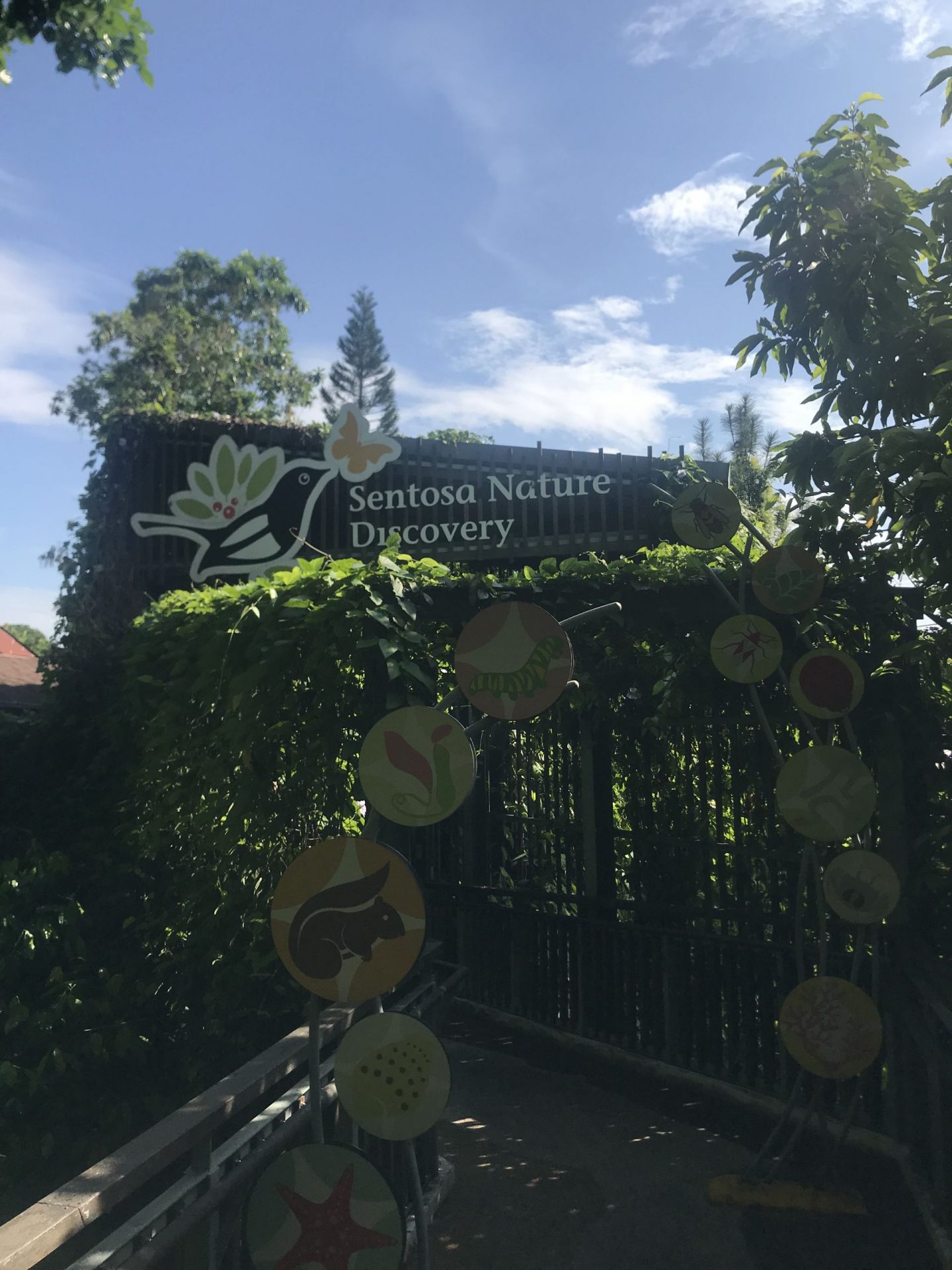 This seems like the official start for the Imbiah Trail, and it was a welcomed surprise for us. It's a lovely, little wooden hut (formerly an old monorail station) kitted out with interactive activities and facts for kids all about the nature on offer in Sentosa and an intro to the 8 different habitats you'll find in Sentosa. Everything from coastal forests, to mangroves. Find out more about the centre here.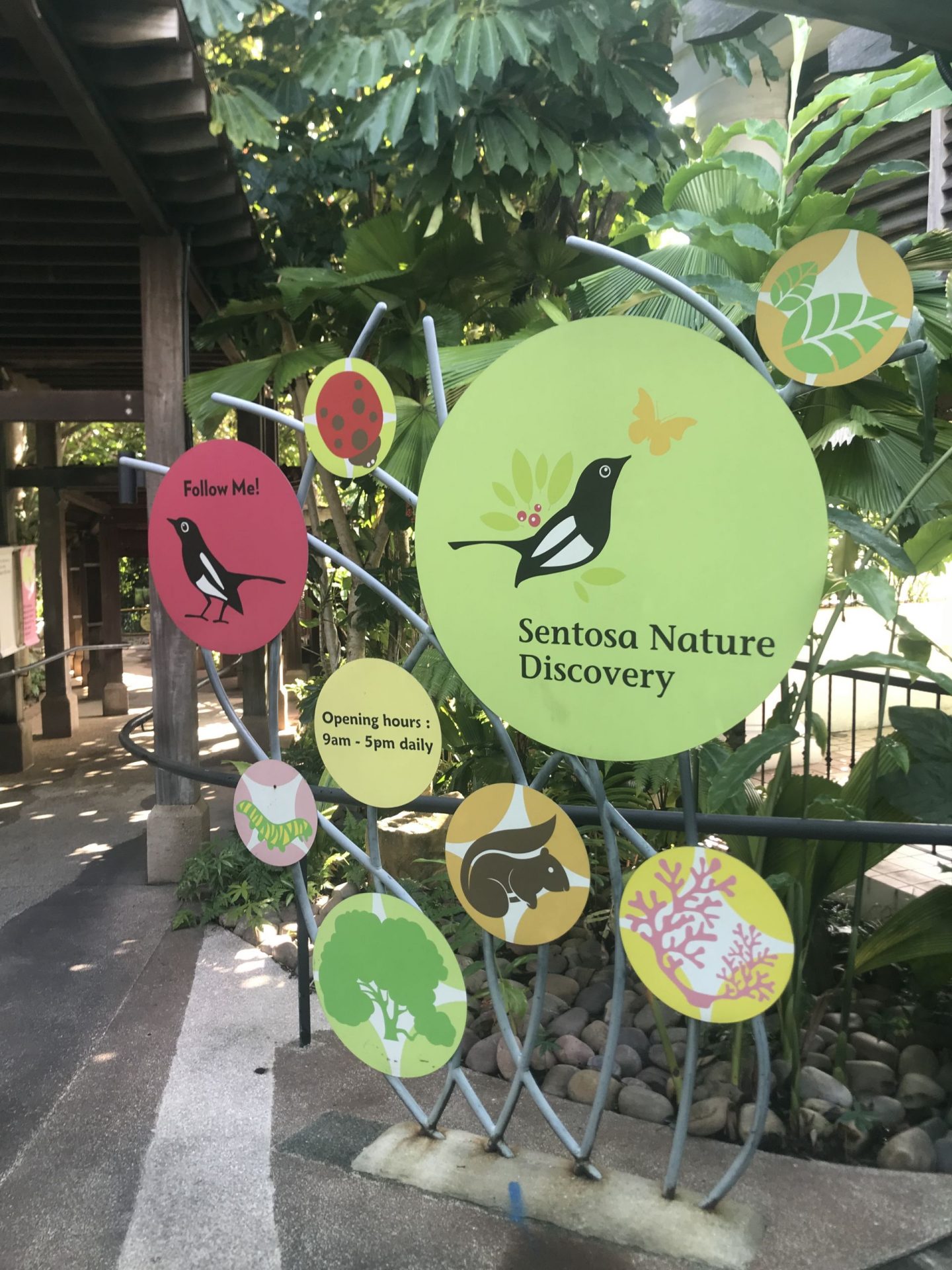 A particular hit with our toddler was the interactive station with different animal noises! The centre is small, but it's a great place to spend a bit of time before starting your walk.
3. Canopy walk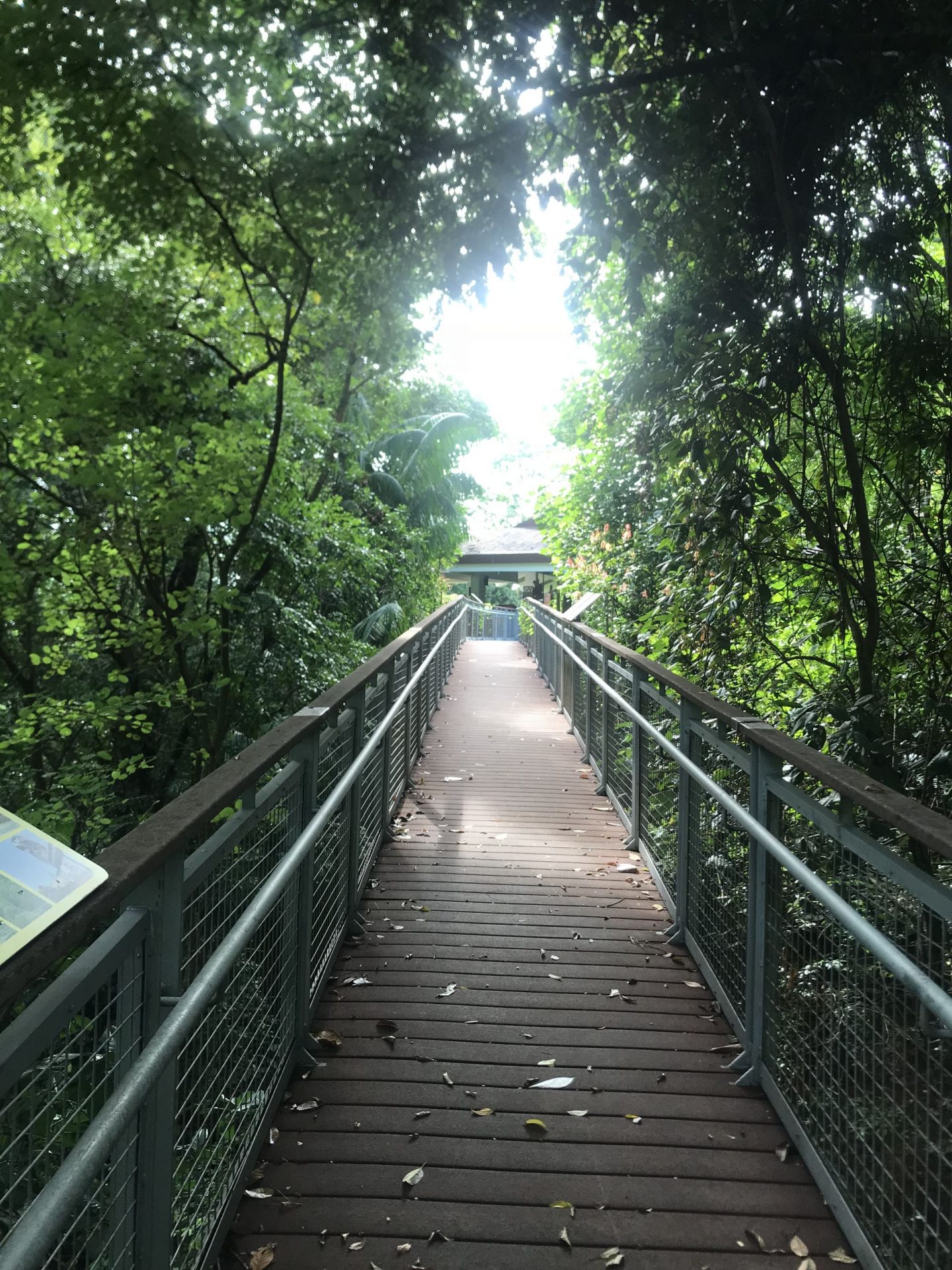 This feels similar to the forest walk in Telok Blangah but if anything quieter (unless we just got lucky!). It feels a million miles from the Sentosa I'm used to, and it's refreshing for it. It's really well organised, with a whole host of information and quizzes to keep the kids entertained on the route. Once you get to the end of the bridge, you'll have the option of paths. We opted to continue on the Imbiah Trail which is then a circular route ending back at this same point, so you'll have time to discover this area too.
4. Imbiah trail – forest walk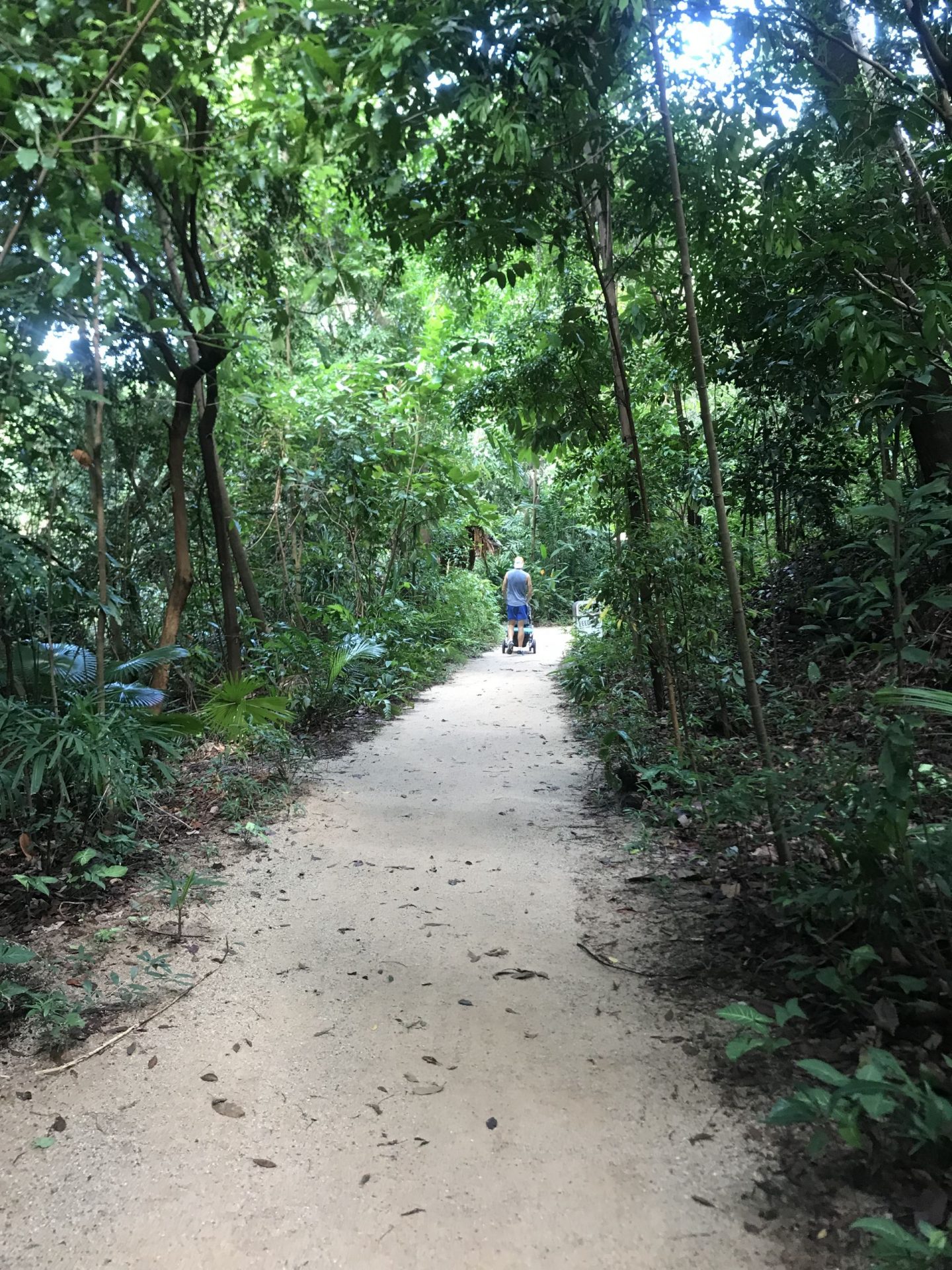 The path here isn't paved and can be a bit muddy with tree roots, but it's all the more authentic for it. It is manageable with a pram, but we'd brought our sturdy, big pram, I'm not sure how our travel pram would fair!! If you can, then a baby carrier might be a better option.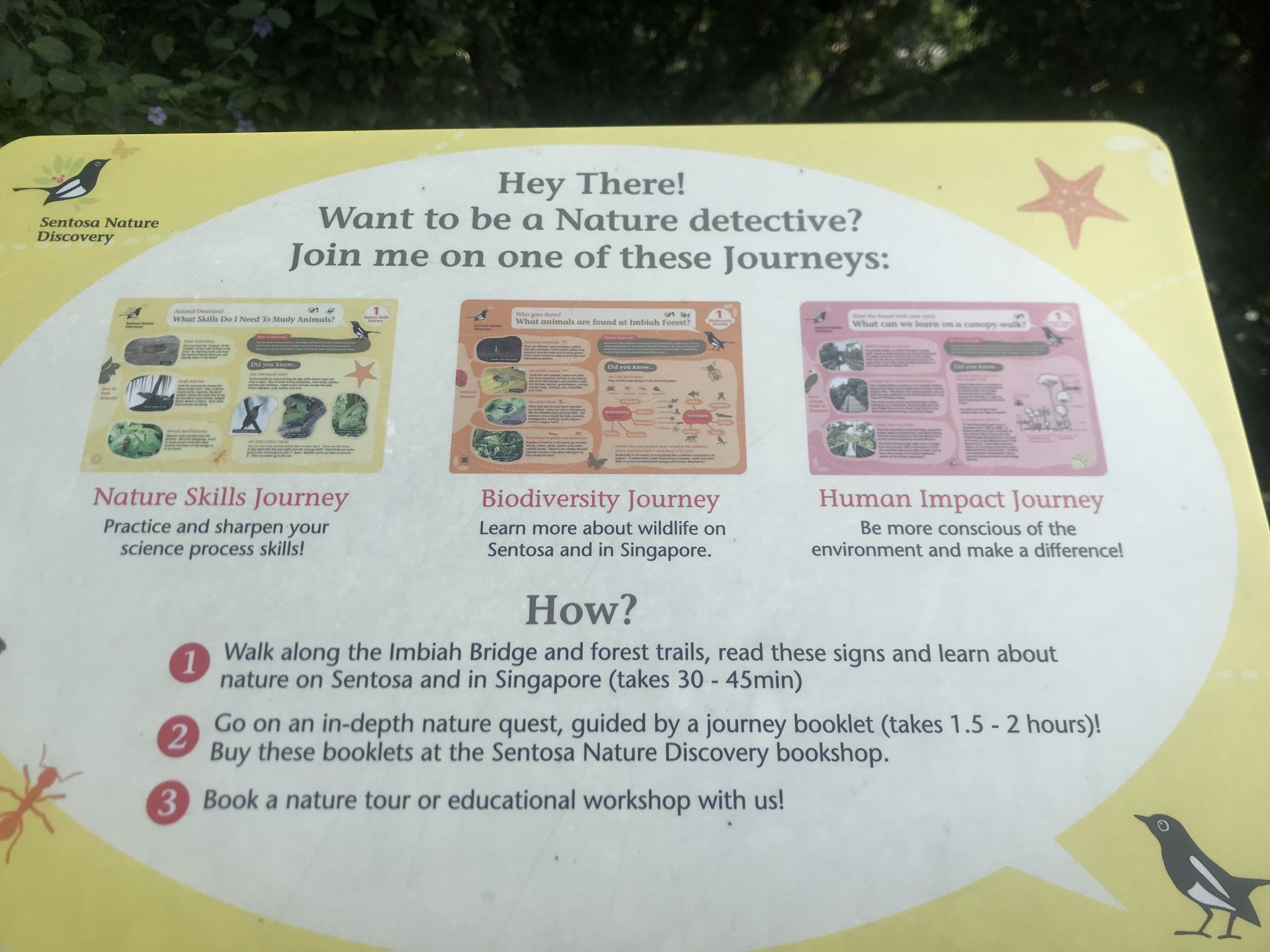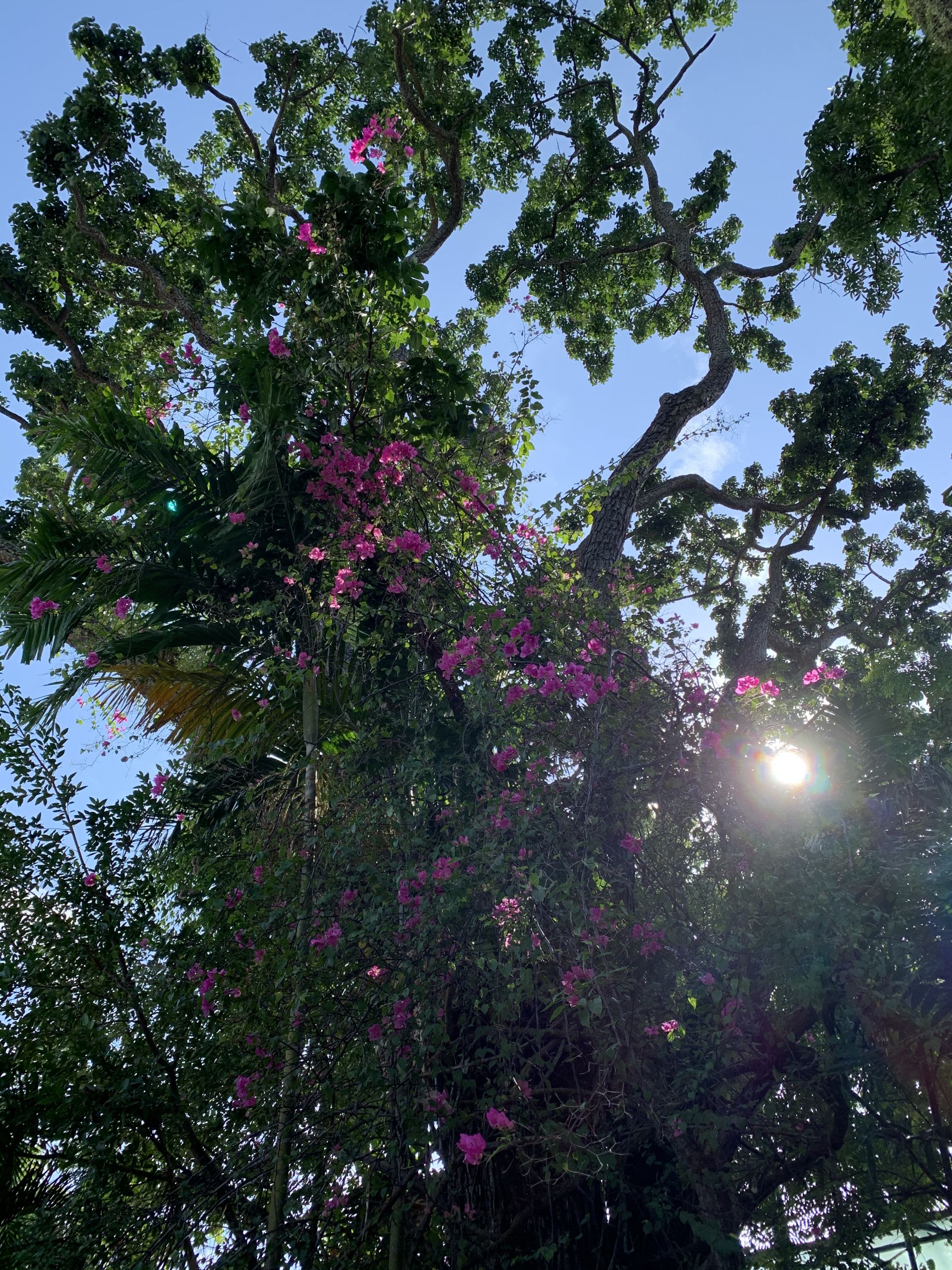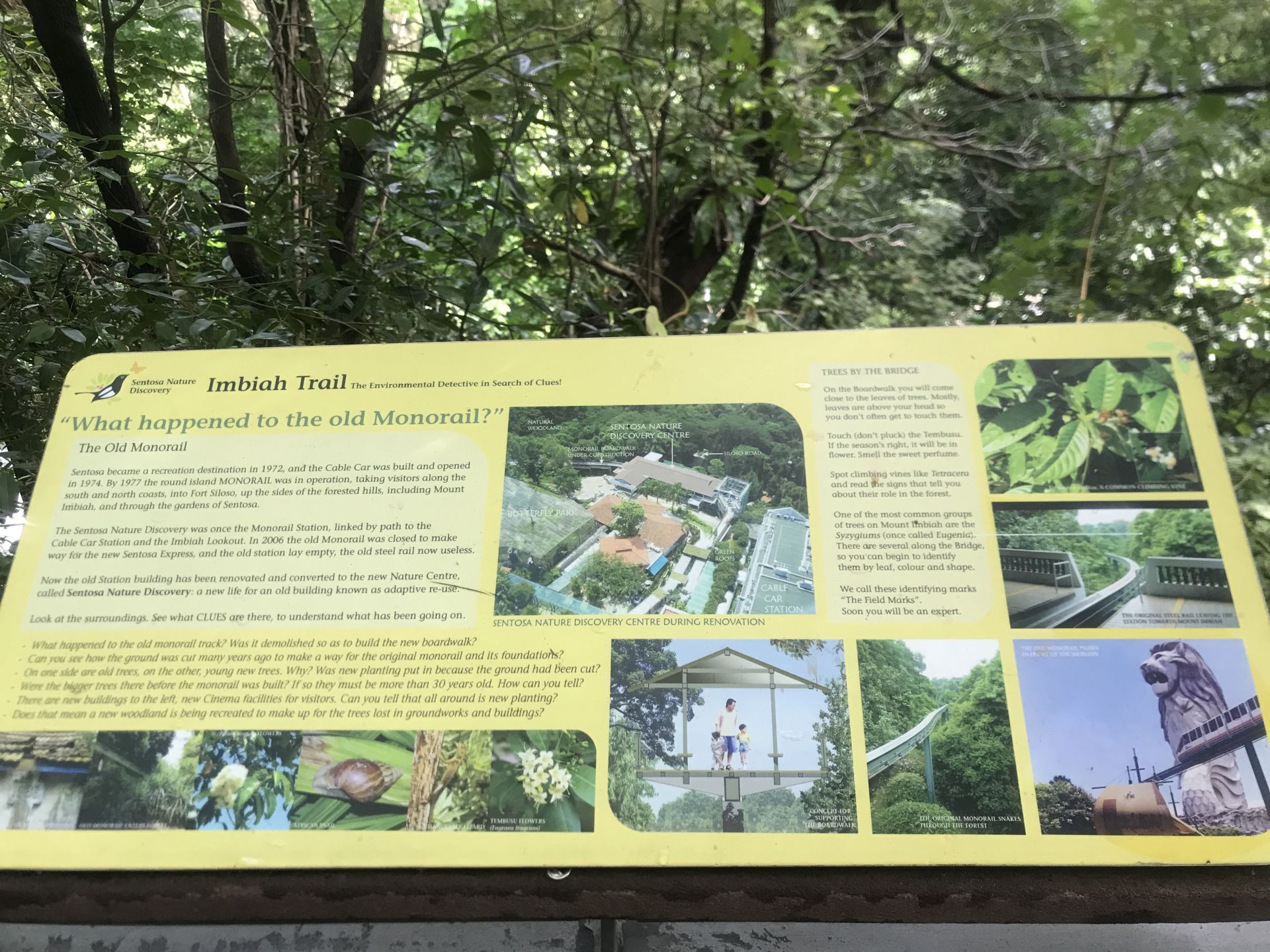 The route continues with plenty of signs and did you know facts to look out for. There are also a few reminders that you are in Sentosa after all, with larger than life animal statues dotted around and some man-made rock fountains.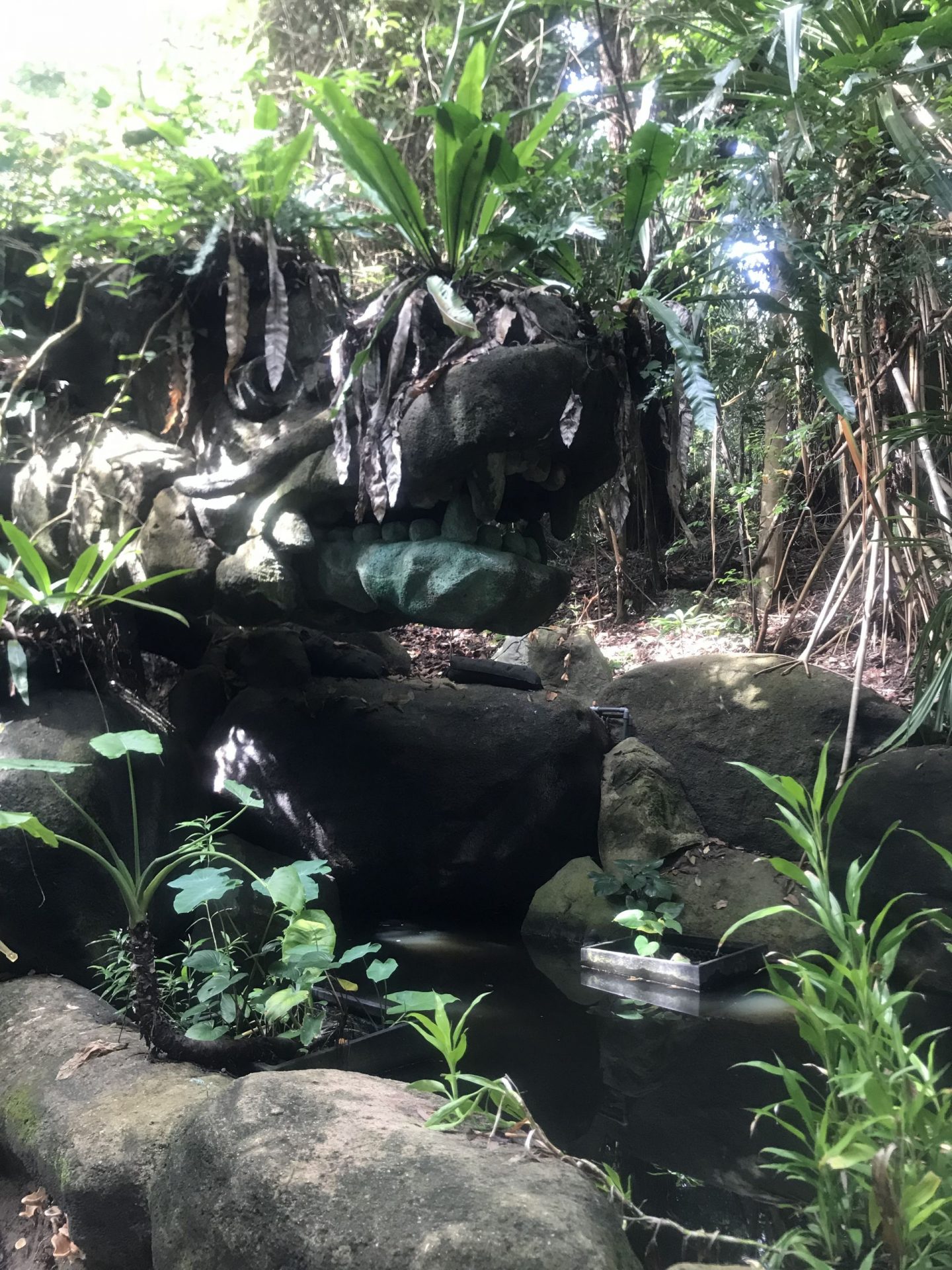 A firm favourite is the sleeping dragon rock and waterfall so look out for that. Although these might seem a little out of place, these additions to the walk are a big bonus for the kids and an incentive to keep exploring even if there's tired legs among the gang. Apart from these additions, you really do feel like you're in the jungle!
A note on the link up with the coastal walk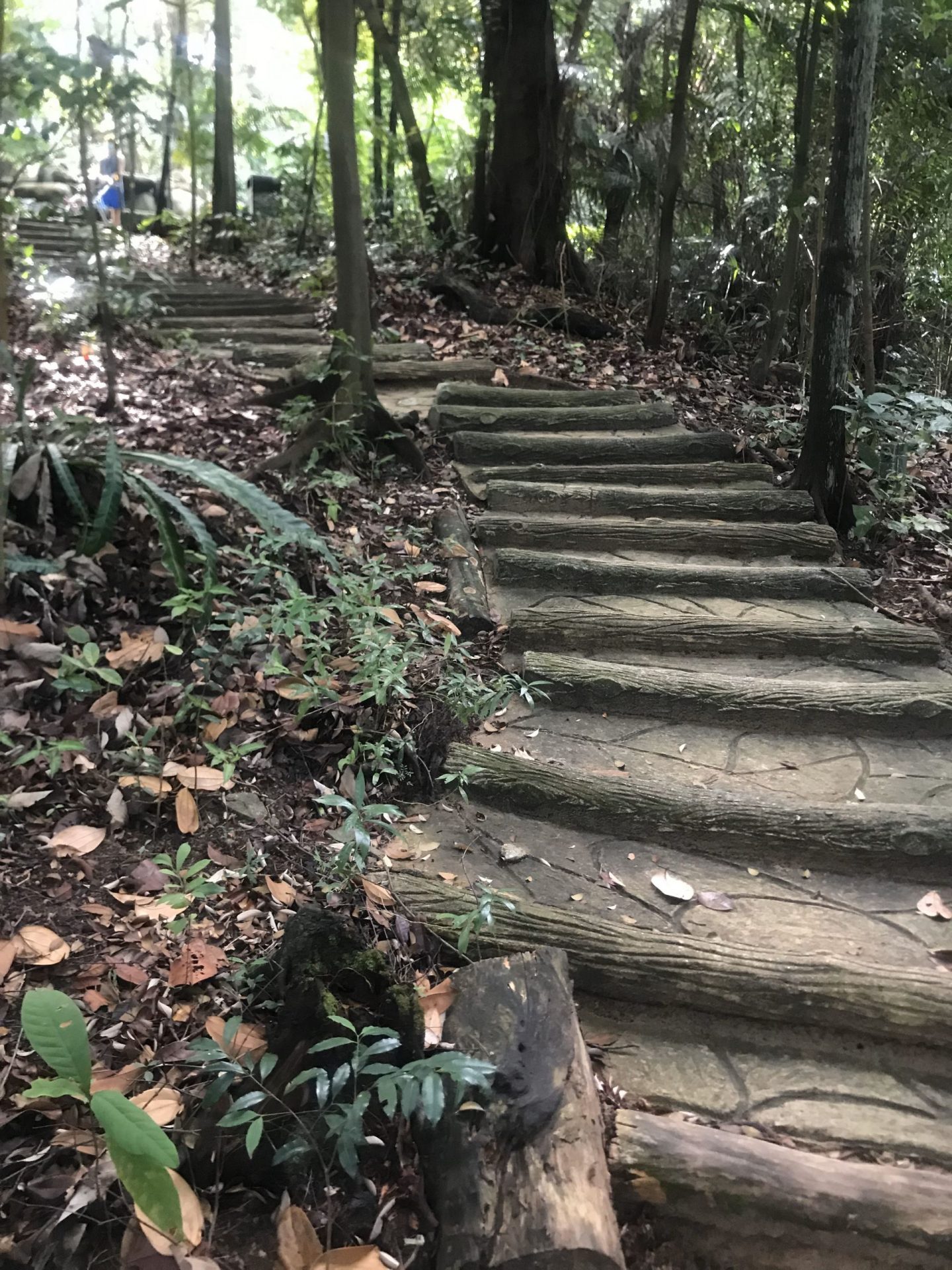 There's the option to take another route towards the Coastal Trail from the Imbiah path. We were quite keen to do this but after a few steps realised this route is 100% NOT pram friendly. You'll need to opt for the road route if you're looking to reach here.
5. Mount Imbiah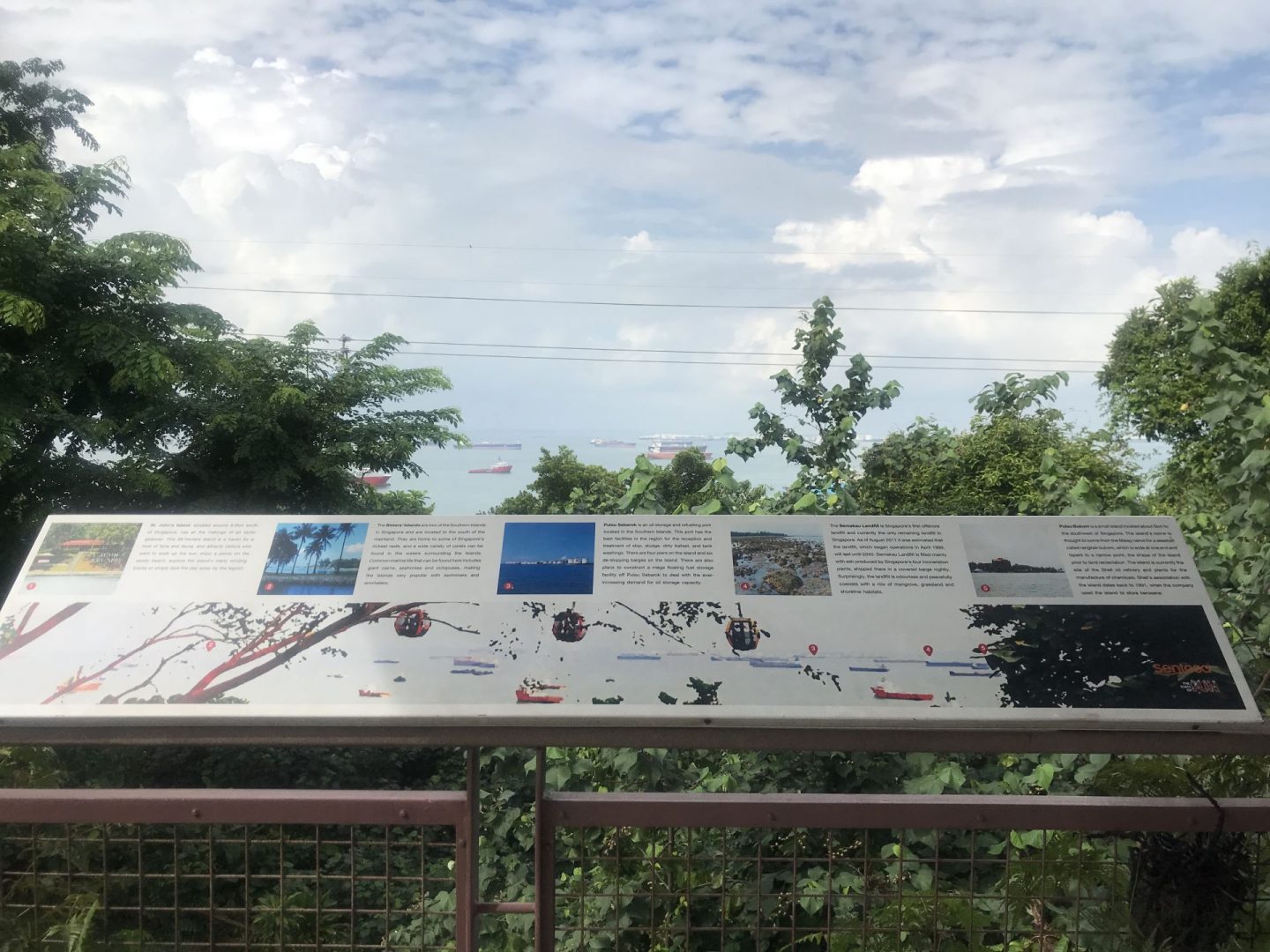 Once you've reached the end of this section you'll come to a small road; it's worth the climb up to the top of this hill to explore more.
If you're with older kids, then try your hand at the MegaZip Adventure Park located here.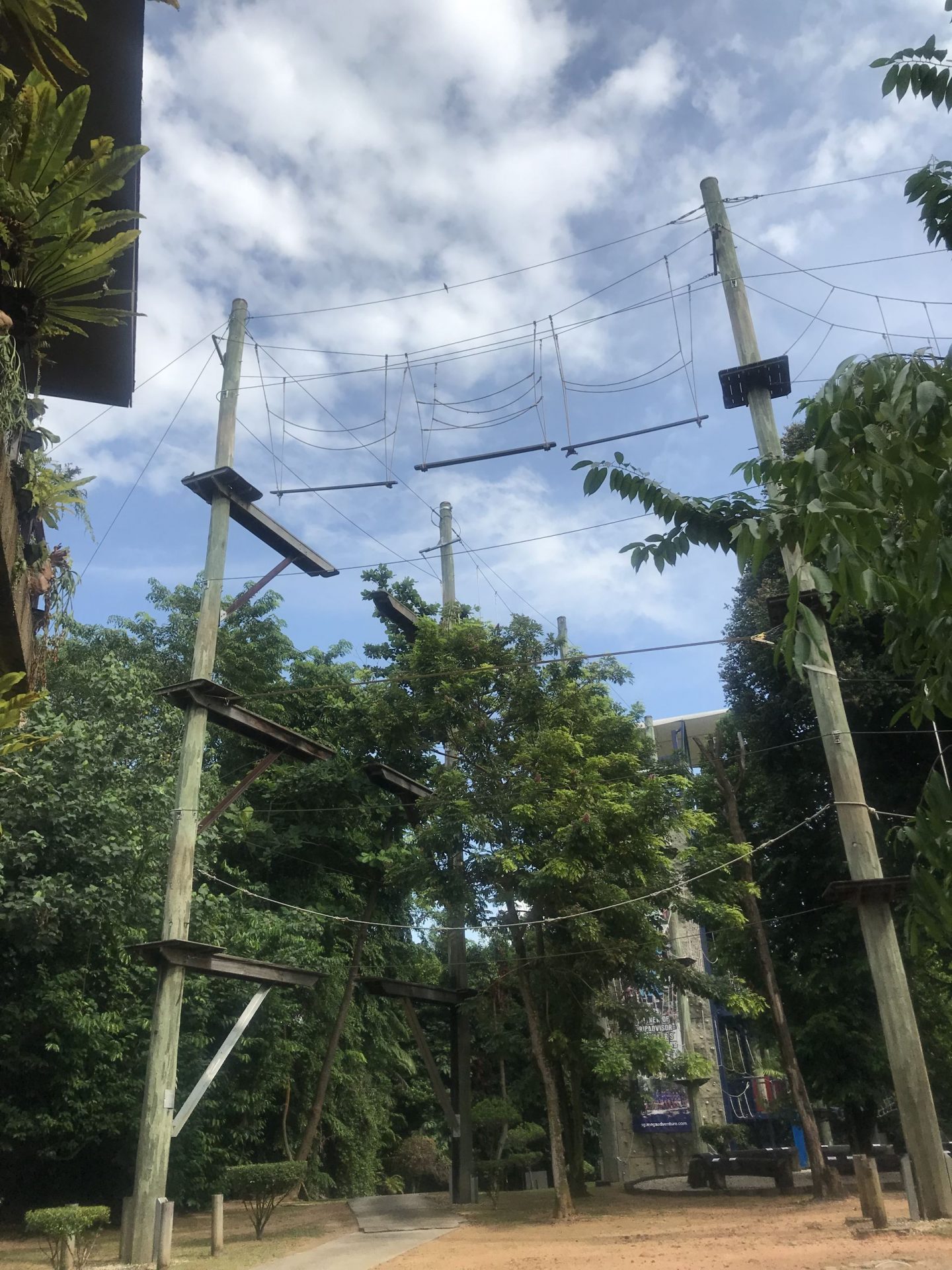 If you're with a toddler like us, then make for the bird watching tower. Not only will it be popular if your little one loves stairs like ours, but it's worth the effort as you'll get a glimpse of the Sentosa coastline and sea below.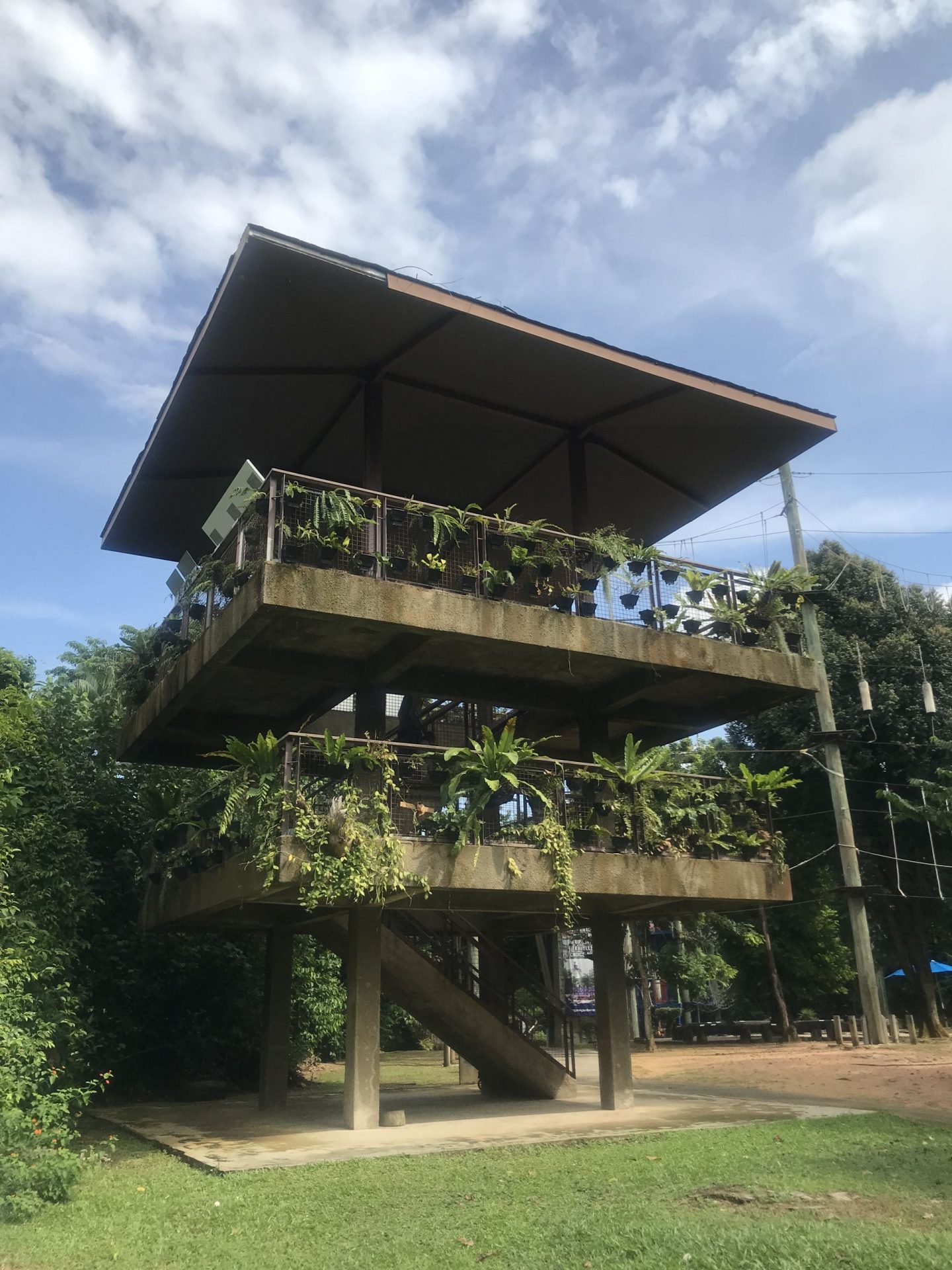 Just below the bird watching tower is a reminder of Sentosa's historical importance in the form of Fort Imbiah. Although not too much remains of the Fort, it's still fun for little ones to explore. Warning though, the steps are VERY steep here!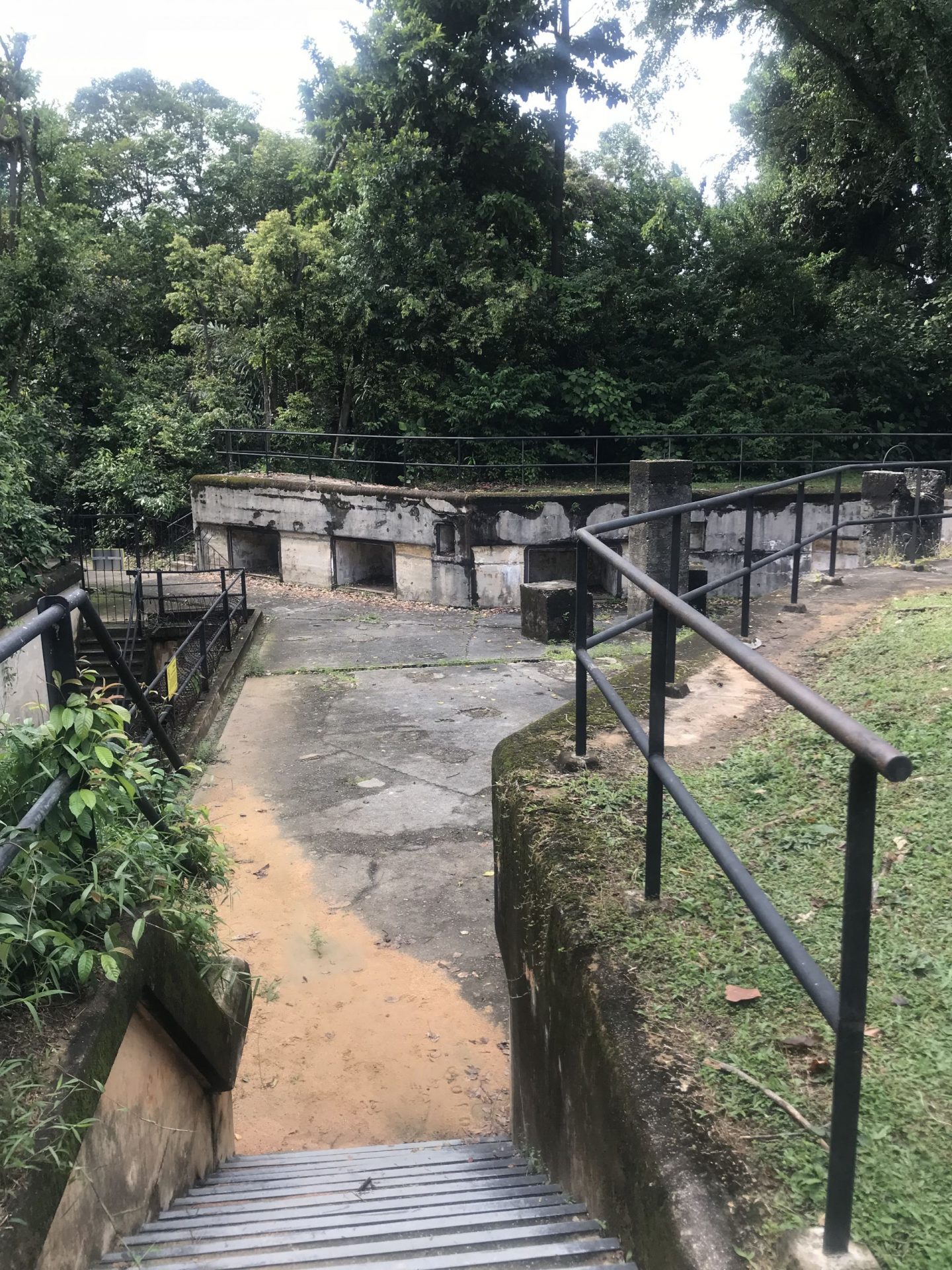 Once you've explored here, then head back to the road and follow it all the way down to the Imbiah Trail start point for more exploring.
6. Walk to the beach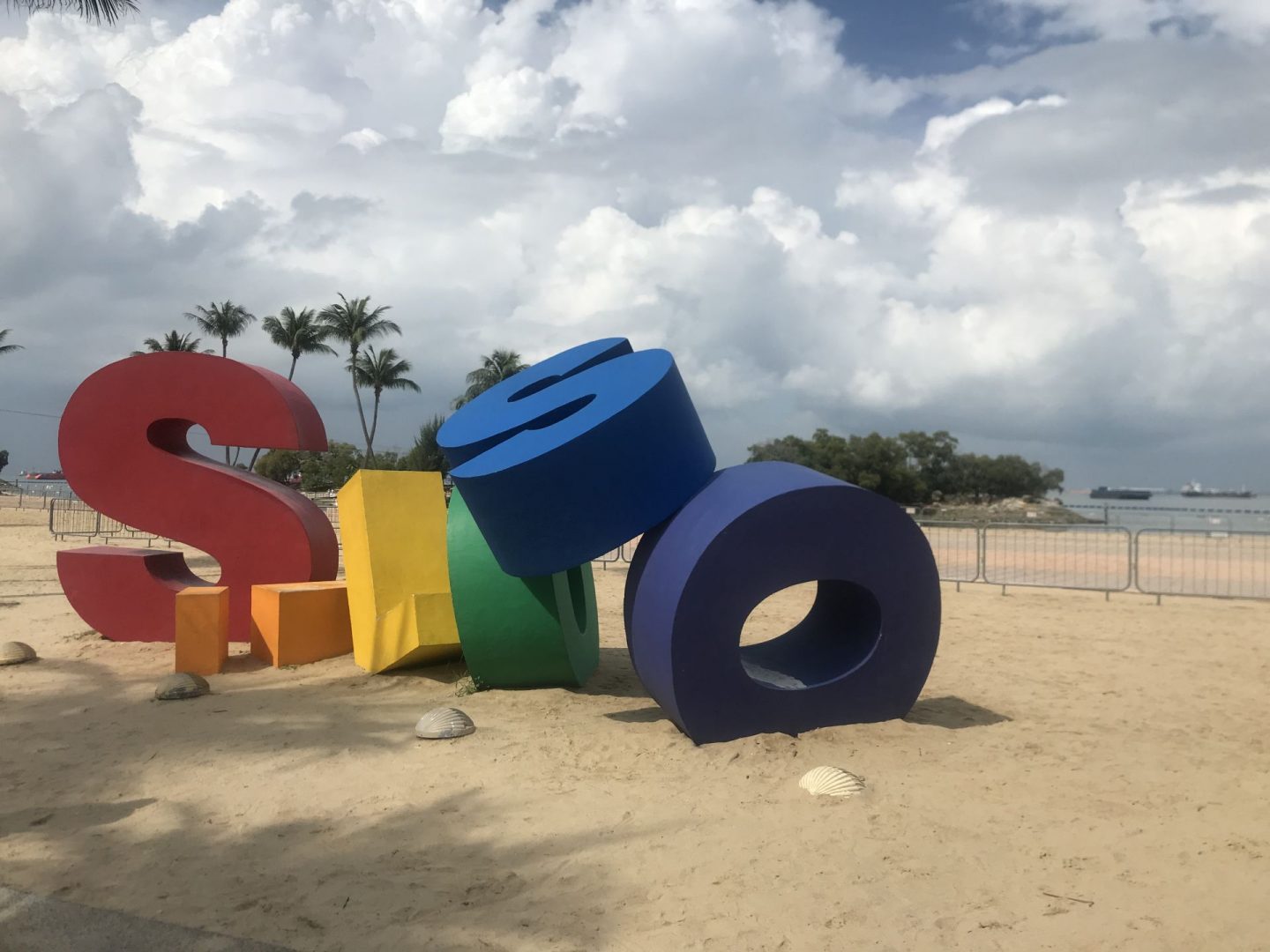 That's the circular route done, but it's worth exploring this point for more larger than life animals for the kids! If you want to add the beach to your itinerary, then there's another part of the Imbiah Trail which takes you all the way to Siloso Beach.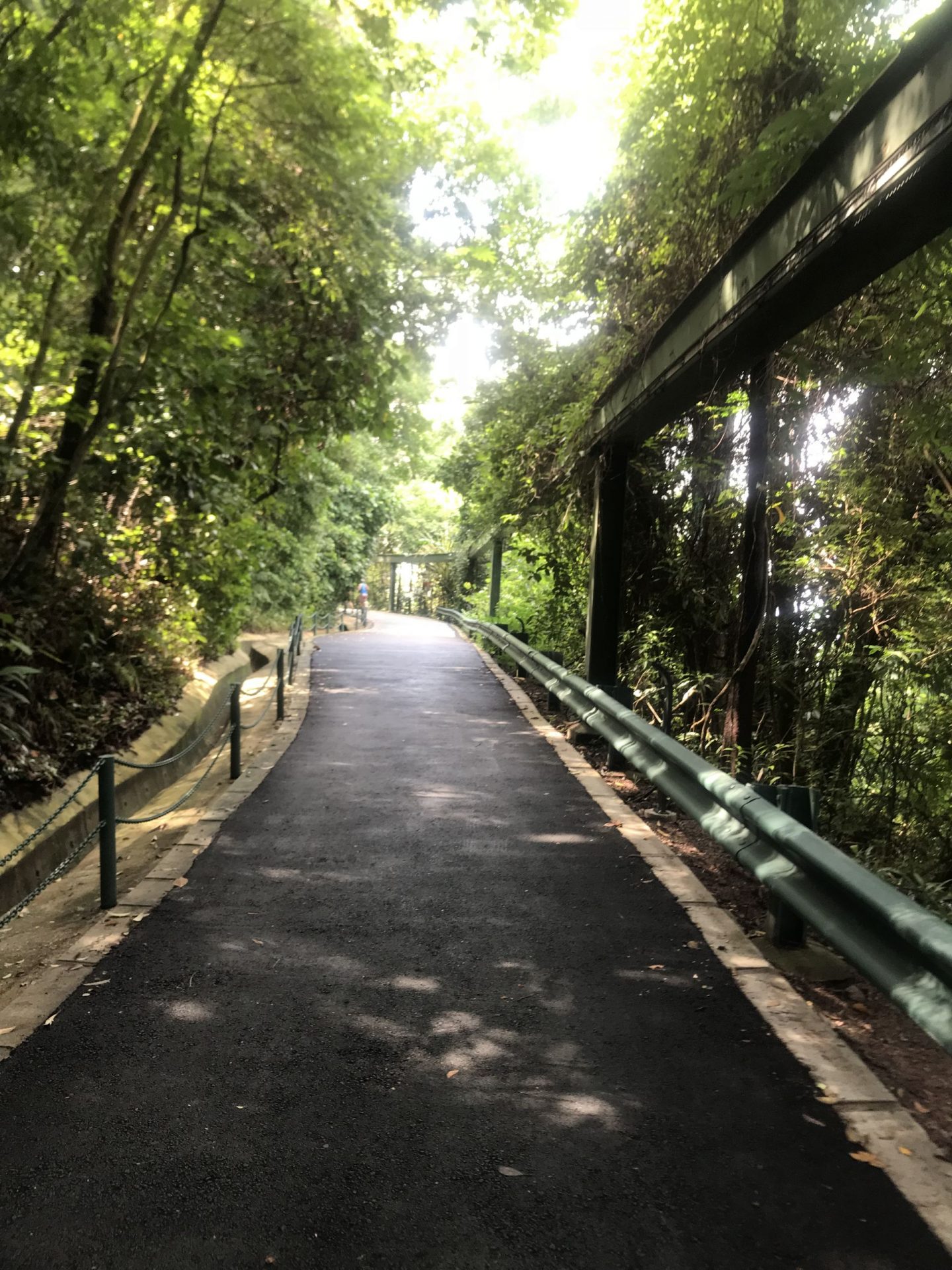 This path is more of a small road, paved and downhill, so it's a nice way to end the walk! It brings you out at the far end of Siloso Beach near the Shangri La Rasa Beach Resort. If you've timed your walk with lunch, then Trapizza is here which does incredible pizzas. If the kids need more things to keep them busy besides the perfect stretch of Sentosa sand, then they can hotfoot it to Nestopia next door!
Getting back:
You can catch the beach tram back to the monorail or walk back to Beach Station to catch the monorail home. And there you have it, a perfect day exploring another side to Sentosa with just as much fun!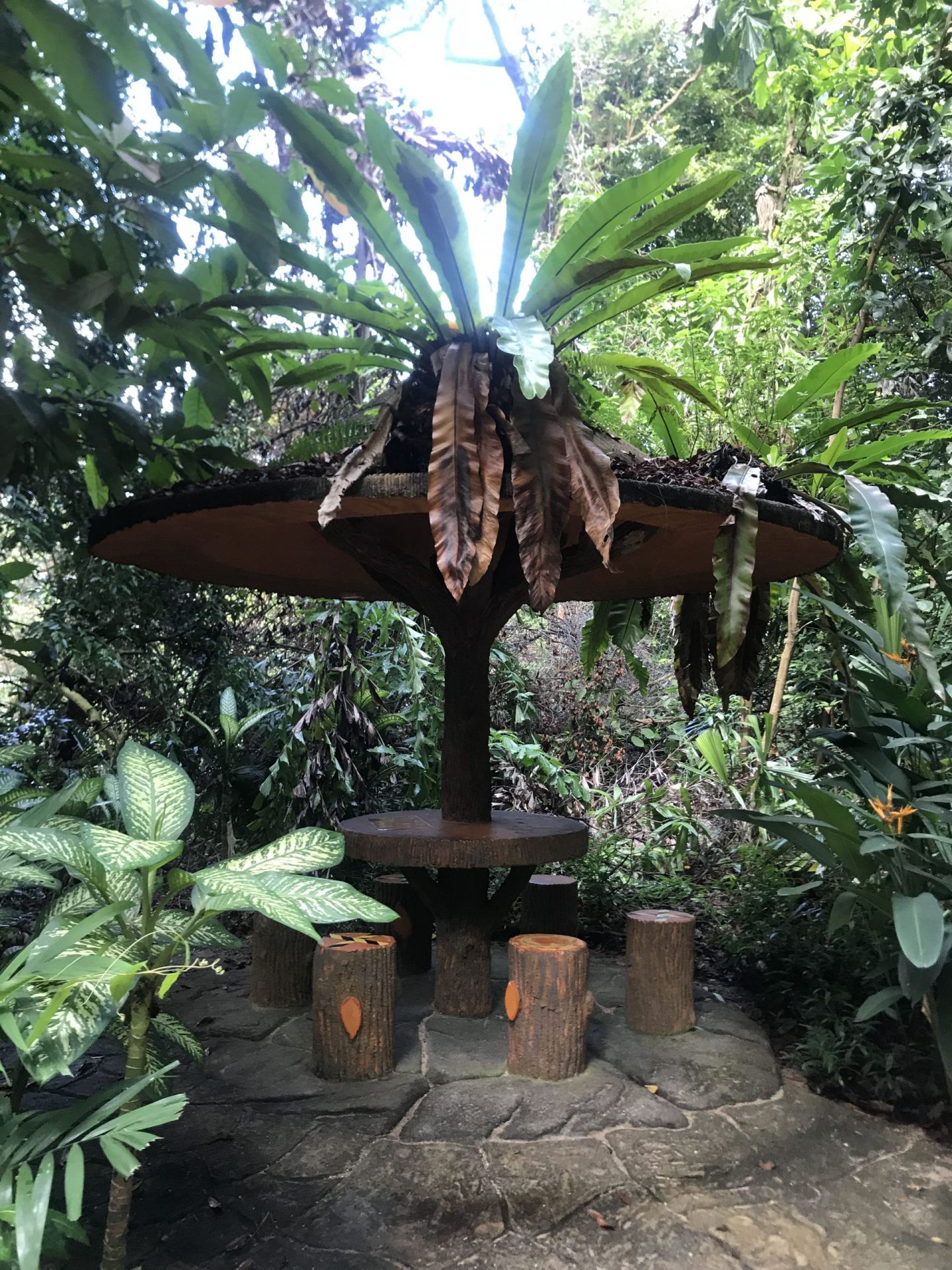 The Guestbook's comment: "Although we love Sentosa for its glitzy attractions, there's much more to Singapore's tropical slice of paradise that's worth exploring. What's better is that you are likely to have a lot of it to yourselves!"
After some more inspiration for walks with kids in Singapore? See our latest posts here.